It is possible to download the Metatrader 4 platform by enrolling for a free demo account with one of the numerous brokers that provide trading on the Metatrader4 platform.
Using an ADSL connection, the platform can be downloaded in a matter of minutes, and the platform may be installed in minutes as well.
Steps to install Metatrader 4 on your system
Step 1: Downloading the software and reviewing the terms and conditions.
A window will open when the download has been completed and the installation has been started. The installation procedure will begin once you have read the general terms and conditions and have clicked on «Next» button.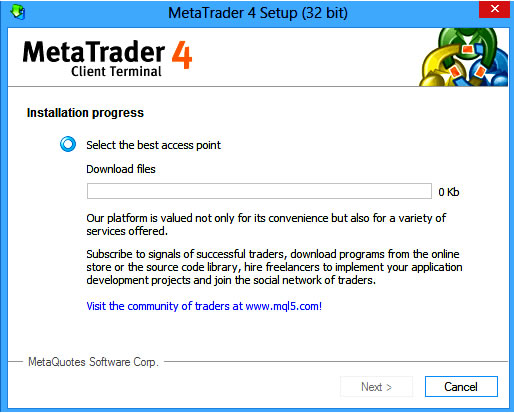 Step 2: Installation preferences.
At this point, a new window will emerge, giving the trader the option of selecting either the default installation or another one that has been customised for him or her (the default installation is highly recommended for all inexperienced users).
You may select which folder to save the platform in, whether or not to generate an icon (shortcut) on the desktop, and whether or not to launch the application as soon as the installation is complete using this dialogue box.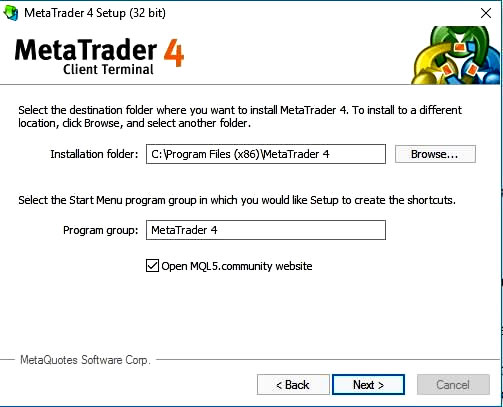 These final two choices are chosen by default; to modify these settings, simply click on the check box next to the option you want to change and leave the box blank. To proceed, click on the Next button.
Step 3: Installation phase.
At this moment, a new window will emerge, which will display us the status of the installation as it is taking place.
Then, once we've finished with all of the points, we'll have to go back to the previous page and select Next.
Step 4: Starting the Metatrader.
Once the installation has been completed successfully, the MT4 platform will be activated and a log in window will appear (if you already have an account, all you have to do is enter the details, otherwise create a new one by specifying all the parameters required).
By providing the given information, the Metatrader platform will instantly generate a Demo account, which will allow you to practise and experiment with the platform without having to risk any real money.
When you are through with the installation and are ready to begin moving about in Metatrader, click on Next once again. Once the account is established, the data will begin to automatically update and the graphs will begin to come to life.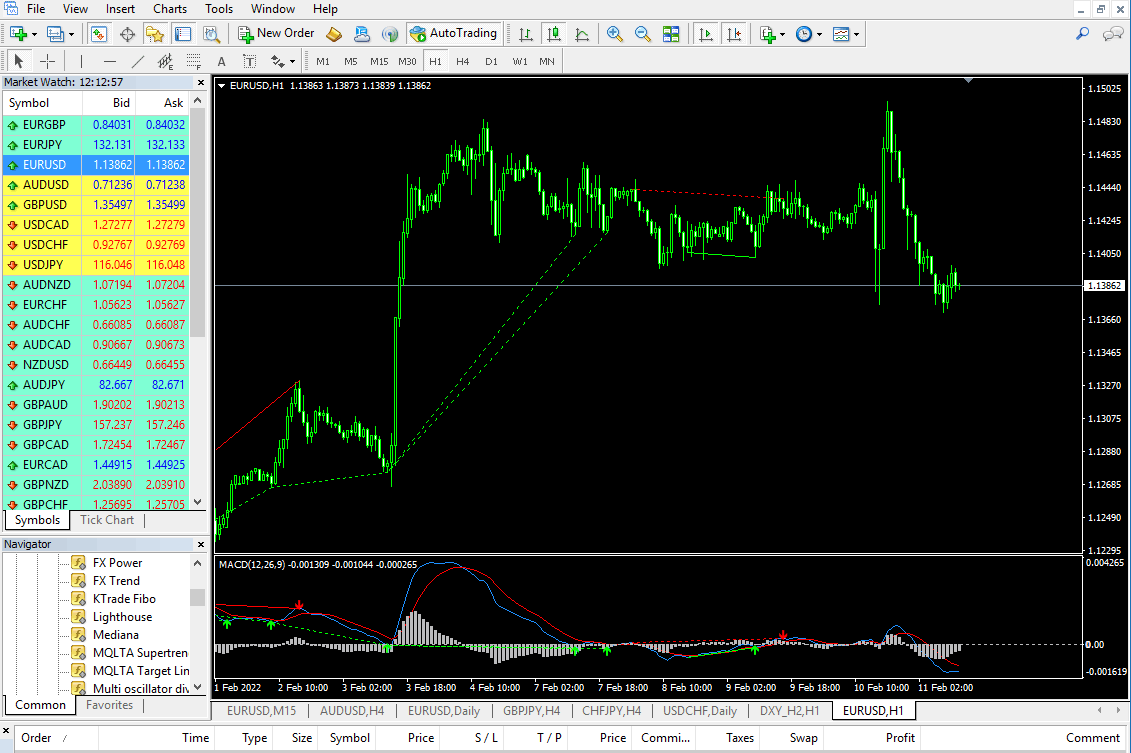 MetaTrader 4 Demo.
To obtain a free copy of Metatrader 4, just locate a regulated broker who makes the software available.
If you are new to MT4, it is crucial to start with a demo account since it allows you to practise with virtual money and hence without risk. In light of the fact that the platform is quite sophisticated and requires some time to become familiar with, the fact that you may practise with a demo account is crucial.
What is the MetaTrader 4 login procedure?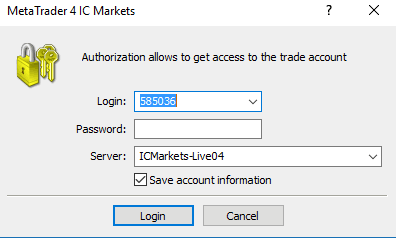 Prior to being able to connect into the MetaTrader trading platform, you must first create a trading account with the broker that makes the platform accessible. This implies that in order to have access to the platform, you must first register a trading account with a brokerage firm.
There are many brokers that provides MetaTrader for free to its customers. You can get started by visiting their respective websites, entering your information, and following the steps outlined on the website.
If you have not already done so, check your email to see if you have received any messages. As a matter of fact, when you register for an account, you will receive a confirmation email, which will contain the login information for your MT4 account (username, password, and server). As we previously said, when you log into MetaTrader, you must select a server. This often includes the name of the broker as well as additional textual information such as "demo" or "genuine."
Then, on a piece of paper, jot down the username, password, and server information that was provided in the email and use them to login. To be more specific, when you first launch the platform, a window displays in which you may enter this information.
MT4 is available for Mac, iOS, and Android devices.
MetaTrader 4 has been designed to be compatible with all operating systems and has been released in several versions. Even when you are trying to download MT4, you have the option of selecting your operating system.
Obviously, the Windows operating system is one of the many compatible operating systems, so if you have a notebook or a desktop computer with Windows, you will have no problems installing the software, which will be exactly the same as installing any other software you have already installed. on a computer system MT4 is currently available on both Windows and Linux platforms, in addition to Windows.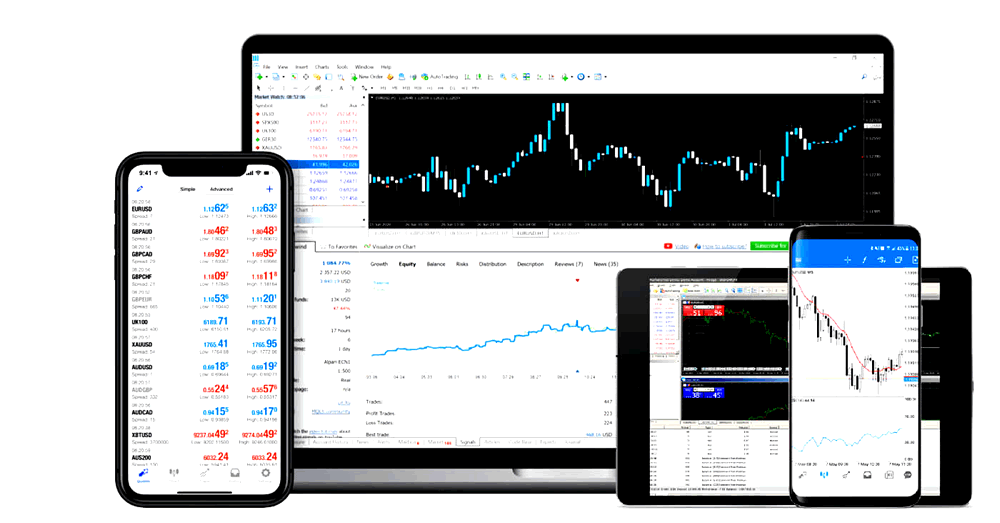 The same may be said for Apple's Macintosh computers. For Mac users who have the installation instructions may be found on the same website where the installation file can be downloaded.
Those who wish to trade using MetaTrader 4 on their mobile devices only need to look for it among the available applications in the market and then click on "install." In this respect, you may refer to the article MetaTrader 4 on Android for further information.
For forex and CFD trading, there is no better platform than this one.

Among the most significant advantages of MT4 are the following:
Through the use of configurable interactive charts and technical indicators on MT4, tools for doing technical analysis of financial instruments are made available.
Ability to place all forms of orders in order to bring your plan to a close.
More than 65 technical indicators and research tools for trading and analysing currencies are available.
Financial news that can be consulted directly on the platform, a very useful function for not missing out on news that can affect current prices and offer trading opportunities.
In the event of favourable market conditions, a notification system is activated.
Trading robots, extra technical indicators, trading publications, and books on trading and finance are all available in their online store.
Direct download of new graphic indicators and robots, which may be done by simply applying them on the platform and making them immediately available.
The ability to duplicate trades from other traders or to copy trades automatically from other traders.